Marketing plays a crucial role in the success of your online store. Without it, sales dwindle and growth stagnates. It doesn't take long for online store owners to realize that they need to keep marketing if they want to keep their sales up.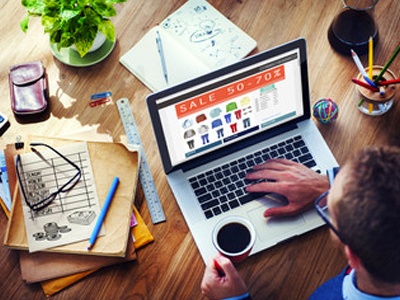 The good news is, there are a ton of ways to market your online store. The bad news? Most of them are time-consuming. From being active on social media to running promotions—it can feel like a never-ending job. All it takes is a small lull in your marketing for sales to drop.
But with some advanced planning, a clear strategy and these ready-to-implement tips, you can take some of the legwork out of marketing and still see great results.
Tip #1: Use Social Media Strategically
Posting and engaging with your audience is great, but if it isn't converting audience members to paying customers, it's a waste of time. Here's how to get returns on your social media time investment.
Set up your social media accounts so the focus is on your online store—think header image, descriptions, etc.
Promote your products and promotions on your Facebook page. Images and videos perform better in Facebook's newsfeed.
Invest in Facebook ads. Their carousel ads are a great way to showcase multiple products in a single post.
Pin your products on Pinterest, along with a benefits-focused description and link to the product.
Use Instagram to highlight the use of your products and any promotions on your store.
Tip #2: Create conversion-focused blog posts
If your online store has a blog, create a blogging strategy that centers around your store, products and promotions. Link to your products within your posts. Use it to announce new products, promotions and partnerships. Make sure you create a healthy balance between promotional and educational content, so readers derive real value and keep coming back.
Tip #3: Set up email sequences
Email sequences help convert subscribers into buyers and buyers into repeat customers. An email sequence is a series of emails triggered by an action your website visitor takes.
New subscribers are more likely to purchase when you have an effective email sequence ready to deploy as soon as they confirm their subscription.
Customers who have left items in their cart and navigated away from your site can be lured back with an abandoned cart email sequence.
And a post-purchase sequence builds a deeper connection with your customer, brings you valuable feedback and is an opportunity to make another sale.
The best thing about email sequences is that once they're set up, they run automatically. So, this is one area that brings big returns for your initial time investment.
Tip #4: Introduce live chat to your customer service
Live chat allows you to talk directly with your website visitors. It increases customer interaction, sales and market reach.
By interacting directly with your customers, you can solve their problems and help them shop at the same time.
Customer service platforms like Intercom, Olark and Drift are excellent live chat options that provide reports and analytics as well.
Tip #5: Install an exit-intent pop-up
No one loves pop-up messages. In fact, 81% of consumers have closed a browser or exited a webpage because of a pop-up. (HubSpot, 2016)
But a certain kind of pop-up, called an "exit intent pop-up," is successful at making people think twice about leaving your site. According to Beeketing, exit intent pop-ups convert up to 35% of lost leads.
Exit intent pop-ups only pop up when a user is about to navigate away from your page. They're less intrusive and don't interfere with your online store experience.
You can use an exit pop-up on product pages and at the time of cart abandonment to offer discounts and other incentives to either continue shopping, create an account, or sign up for your newsletter.
Tip #6: Create price-drop and back-in-stock alerts
Most of the traffic on your online store comes from window shoppers—people who aren't actively looking to buy. They're more likely to bookmark a product page or add it to their favorites.
A price-drop alert gives them an added incentive to sign up to receive your emails, thus bringing them back to your site with more awareness and higher purchase intent.
The same logic applies to back-in-stock alerts. If your online store has products that often go out of stock, offering to alert customers when the item is in stock again is an excellent way to capture leads.
As soon as the item's back in stock, a pre-set email sequence can be triggered to let them know the item is back in stock and to hurry before it runs out again.
With the exception live chat, all the above marketing tips can be automated. Setting them up takes time but once done, you can sit back and watch them capture leads and convert them into more sales for your online store.
For more ideas on how to market your online store, check out our e-book, How to Effectively Market Your Utility's Online Store.