Energy use skyrockets during the winter season, leaving your customers struggling to find the most effective energy-saving solution.
The most common sources of energy use include water heating, appliances, lighting, electronics, and the overall heating of customer homes. By helping your customers to learn a few basic conservation tips for these common energy outlets, you can better equip them to handle the upcoming cold months.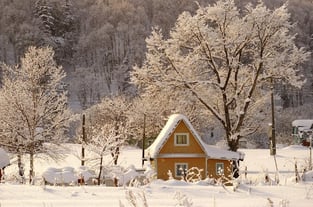 The Energy Use Increases
Energy use in the United States peaks twice during the year. The first peak falls in July and August, the hottest months of the summer, when people turn to their ACs to stay comfortable. The second peak comes during the winter, generally in January, when people work to heat their homes against the winter chill. Heating is the largest single use of energy in an average American home, accounting for about 45% of annual energy usage.
Though the U.S. Energy Information Administration is forecasting decreases of between 2% and 14% in the use of every major heating fuel — natural gas, heating oil, propane, electricity, and wood — for this coming winter as compared to last winter, overall energy usage peaks will still be much higher than during the off seasons.
How can you offer a solution for those customers facing usage increases?
The following practices can help your customers to reduce energy use as the temperature falls:
Regularly conduct audits of the area for any air leaks, concentrating on doors, ducts, and windows. Insulation kits can easily be incorporated in areas with air leakage.
For doors with air leakage, install weatherstripping to keep colder air out and warmer air inside.
Stay conscious of the thermostat by scheduling temperatures based on when residents are in and out of the house. It is recommended that thermostat temperatures be decreased by between 10 degrees and 15 degrees for eight hours to help keep heating energy expenditures down.
Consider undergoing an energy assessment to see which areas of the home can be improved for overall energy savings.
Check into ceiling insulation; adding insulation with an R-38 rating can greatly reduce the need for heating.
Regulate water temperatures, which comprise 18% of the average home's energy usage. Simply decreasing the water temperature to a warm setting (120 degrees Fahrenheit), can result in a significant decrease in energy usage.
Energy Concerns
By educating your customers about conscious energy-saving tactics, you can help them to minimize their energy usage during the cold winter months.
At AM Conservation Group, our mission is to provide energy and water efficient solutions for customers. Connect with us or download the Winter Weather Prep Checklist for more information on energy savings for the upcoming winter season and year-round efficiency best practices.