---
For businesses to stand out and thrive in today's market, they need to have—and communicate—a discernable purpose. Many studies suggest that an altruistic purpose not only mobilizes employees, it also contributes to a company's bottom line. The pursuit of purpose rivals the pursuit of profit in terms of importance, and both have become an essential aspect of businesses that purport to operate with conscience.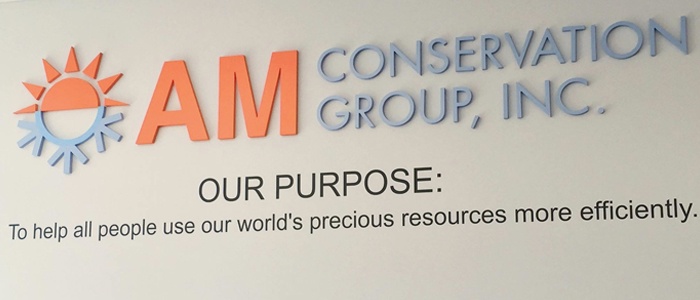 When a company organizes its mission around its purpose, it makes for a more authentic brand experience. It shifts the conversation from financial gain to "shared value," meaning an approach that focuses on generating economic value in a way that creates value for society as well. To communicate this shared value, a company's purpose has to be visible in every aspect of the work they do. It needs to be integrated in its products, services and organization. For example, our stated purpose is: To help all people use our world's precious resources more efficiently. This statement is not just lip service. It has been woven through the fabric of our organization and reinforced from all possible angles, from marketing collateral to meetings.
Here are some tips for integrating your company's purpose into the core of its strategy:
---

Demonstrate authenticity
When a company demonstrates a truthful, authentic purpose, consumers feel an enhanced connection to the products and company. At AM Conservation Group, every meeting begins with the purpose and a discussion from the group about how they've experienced the purpose in action since the last meeting. This makes employees feel accountable to the purpose and reminds them their contribution to it is valued.
Make it explicit
Neither employees, customers, nor the general public should need to guess at what a company's purpose is. It should be transparent—and explicit. We made sure our purpose was short and easy to memorize so everyone in the company could easily learn it by heart. The statement is also prominently displayed in the office reception and cubicle areas, as well in breakrooms and our warehouses. In addition, each staff member has the purpose displayed on a high-use product of their choosing (e.g., water bottle, travel coffee mug, coaster). That way whether employees are at their desk or out in the field, the purpose is always front and center.
Create a cohesive narrative
Having a purpose statement that touches on widely held core values can propel a company's experimentation in new products, technologies and services. It presents a continual challenge that staff members strive to create solutions for. Resources are important and limited, and finding ways to use them more efficiently benefits everyone. Seen through that global lens, AM Conservation Group's purpose functions as a driver of strategy, a recruitment tool and a way to make a difference in the world. To help give the purpose an expanded narrative and help unify the company, AM Conservation Group has several ways to embed it into the company's core operations.
---
Purpose is not just a feel-good afterthought—it's a solid way to build a business on a firm foundation. Compelling research suggests that purposeful, value-driven companies tend to outperform their counterparts. A purpose is mobilizing and energizing, and it keeps a company tracking toward success. It also helps customers connect and stay loyal. Investing in shared values creates a holistic bottom line that has far greater ramifications than merely an economic one.
---