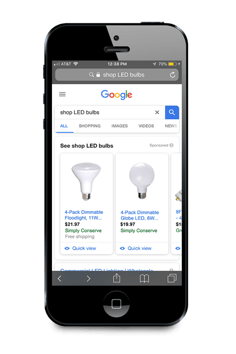 When you sell goods in an online store, it's hard to stand out from the crowd. But Google Shopping Ads have been growing in popularity and effectiveness because they can help utilities identify good leads for online stores or marketplaces.
A potential buyer who clicks a Google Shopping Ad has already proven his or herself to be an interested customer because they've sought out the product by typing in a related search term. At the top of the Google results page, Google Shopping Ads serve up images and prices of relevant items. With the low instant rebate pricing in utility-based online stores, products get special placement, and ads can be controlled so they're only shown to shoppers in your service territory. Since only the most relevant and motivated shoppers see these ads, they're extremely effective at driving online purchase conversions. Even if customers don't buy immediately, they are more likely to return at a later time after seeing a Google Shopping Ad, especially if you pair them with Google Display Ads tied to remarketing code on your online store.

Creating Effective Ads
Successful ads follow three steps: building, enhancing and optimizing. When you sign up for Google Shopping Ads, you also need to create a Google Merchant Center account. The Merchant Center is where you will upload your shopping feed, which lists the products your online store carries. The shopping feed works with Google's search algorithms. With the campaigns you build in the system, you can optimize and control who sees your ad by choosing the search terms you want your ad to appear with and the keywords you don't want your ad to appear with. If you're having a sale, you can edit your ads to highlight it. You can also choose specific geographic areas in which you want your ad to appear.
Once a shopper types in keywords that match the ones you chose into the search bar, your Google Shopping Ad will appear with a picture of your product along with the price. The ads appear at the top of the search list, immediately visible to the shopper. That ad acts as a virtual store window for your shop, with the product photo making it much more dynamic than text-only ads. The consumers who click these ads exhibit high buyer intent, which results, in some cases, in a $6 return on investment for every $1 spent on marketing.
Google Shopping Ads are currently one of the most profitable advertising options for many online stores because the cost per click is 20 to 50 percent lower than text ads. Add to that the fact that those ads are seen by buyers with high intent, and the value is clear. For this reason, we commonly advise our clients to shift a portion of their online store ad budget to Google Shopping Ads.
If you wonder if your potential customers are even looking for your products on Google, you can find out for yourself by using Google's Keyword Planner. It's a free tool in Google Ads that provides information on how often certain keywords are typed into the search engine and their estimated cost-per-click. You can take the information you learn to hone the list of keywords you use for your ads and your ad strategy.
Can Google Shopping Ads help your online store? It's worth experimenting to find out. After all, they've been shown to increase return on investment, reach better qualified traffic and have a better and broader reach than regular text ads. Plus, appearing at the top of a search results page with full-color photos and prices will help you stand out from your competition.