On The Weather Channel's "Wake Up With Al," Todd discussed how we can all save money on our energy bills with a few simple changes. In the winter, energy use soars as consumers heat their homes. Even though gas and oil prices have come down significantly in the past year, those savings don't necessarily translate to savings in our home heating bills. Even in mild winter weather, energy companies typically have longer term contracts and set rates for consumer fuel costs for the whole season.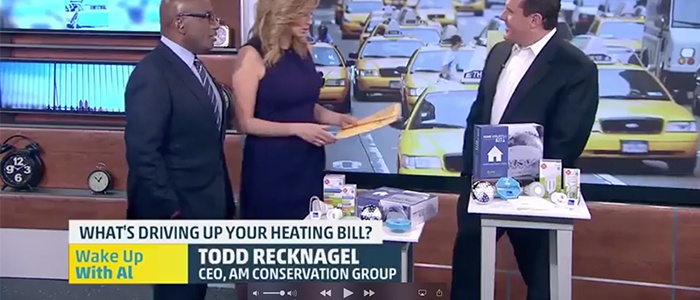 Contrary to popular belief, utilities do want consumers to save energy. Running energy efficiency programs will help encourage consumers to use products and programs that reduce energy use. Utility companies run various types of programs, offer rebates, and will often send energy saving products to consumers. During his interview with Al, Todd explained these very easy changes that we can make to save energy this winter.
Showerheads
Energy efficiency showerheads have come a long way. With improved technologies they offer the feel and pressure of a regular showerhead while reducing the amount of water used. They are no longer the low-flow showerheads that became a bit in a Seinfeld episode. You can expect to save 30% of energy with an efficient showerhead.
Have a shower hog in your house? Another way to save energy is to reduce the amount of time it takes to shower. Putting timers on the shower walls can help kids and teenagers take shorter showers.
Lighting
Switching light bulbs to LED options can increase savings up to 80% over incandescent bulbs. New energy efficient lighting comes in many style, size, and color options, making it easy to replace older bulbs. Depending on fixture type, LEDs can last up to 50,000 hrs. Although the initial cost is higher than incandescents, the long life and energy savings are all worth it.
Insulation
Keeping warm air in and cold air out in the winter is extremely important. About 50% of energy used throughout the year is for heating and cooling. Doors, windows, and outlets are areas where there is increased potential for cold air to enter the house. Installing weatherstripping and specially designed outlet covers will prevent cold air from cooling down a warm house.
Results
Small changes like these can save 10-15% off an energy bill. All of these products can be found on the AM Conservation Group website. Making these small changes will make a real difference in the amount of energy used in the home; it may not seem like a lot, but over the course of a winter the savings are considerable.
Find out more about how utilities can help consumers save on their energy bills. Visit AM Conservation Group to learn more about these products and services.