When you have an online store, getting customers to click "add to cart" is only half the battle. A whopping 67 percent of shopping carts are abandoned without ever making it through checkout.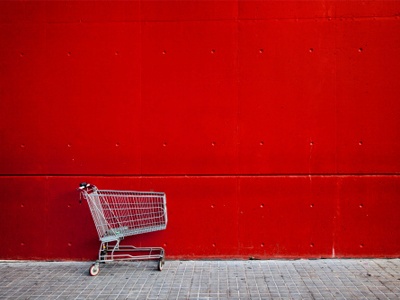 For any e-commerce marketing plan, abandoned shopping carts represent a motherlode of missed opportunity—and a huge potential to increase sales. Think of shopping carts as low-hanging fruit, ripe for the picking: The customer has already acted on interest but hesitation has set in. Just remember that getting your clients over the hump is not as hard as getting them interested in the first place.
First, let's understand why customers abandon carts at such a high rate. Certain hurdles may leave customers reluctant to make the final click: extra costs such as shipping, forced account creation, credit card trust issues, an overly clunky process and limited payment methods.
For the user, all the hoops to jump through can be excruciating. But even if you have optimized your online store beyond reproach, there's an inherent anxiety involved with spending money. The common reaction to an online shopping cart is to balk. In the field, it's called loss aversion.
But abandoned shopping carts don't have to resign themselves to perishing in cyber space. According to a report by Business Insider Intelligence, sending shoppers targeted emails after they've left the website has a huge effect on conversions. The report quoted this stat by Listrak: "Initial emails, sent three hours after a consumer abandons a cart, average a 40% open rate and a 20% click-through rate." These abandoned cart emails (ACEs)—automated messages retailers send out to remind buyers of their pending purchase—often contain additional incentives to buy.
Below is an example of an abandoned cart email: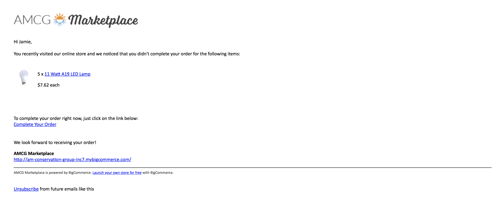 If you understand the abandoned shopping cart as part of a complex journey in the customer lifecycle, you have a lot of options at your disposal. Frame it as a step toward conversion, rather than a lost sale. Here's how a re-engagement email campaign can leverage online shopping cart data in lucrative ways.
Encourage Accountability
At the top of any online store owner's agenda is to get web visitors to create an account. Once they have an account, you've got the means to trigger the start of an email relationship, particularly your ACE series. Think of an abandoned shopping cart as a sort of victory, a strong indicator that a customer is interested in your brand. To date, only 24 percent of retailers use automated abandoned cart emails, despite the missed opportunity to earn back customers.
Make it Timely—and Personal
Abandoned cart emails are tailored to the customer and focused on the products they left in the shopping cart, along with a not so subtle buy button. (Handy tip: Pictures of the items in question can boost click rates.)
But often customers need more than one email to nudge them back to your site. A second email may contain a discount or coupon, such as a 10 percent off the sale or free shipping, to incentivize their purchase. Use the copy to remind them that they liked what they had in the cart and encourage them to return.
Nurture the Sale
The abandoned shopping cart is an oft-overlooked potential goldmine for online retailers. With well-crafted automated email prompts, you can wrangle those carts back from oblivion and get them over the finish line to completed sale.
AMCG'S e-book provides valuable information about how to effectively market your online store.