As the e-commerce store must rise to the challenge of speedy delivery, the struggle lies in being responsive, cost-effective and sustainable. Additionally, virtual retailers, along with providing faster and easier shipping options, now must offer easy returns as well.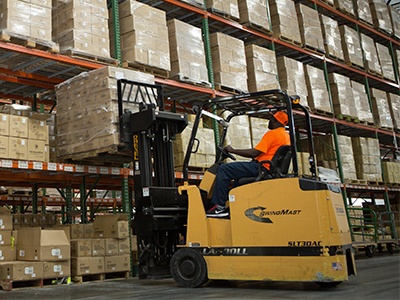 According to Chain Storage Age, "The growing expectation [is] that returning an item should be as simple and convenient as receiving it. If the returns process isn't smooth, the customer experience level drops and what started out to be a satisfied consumer soon becomes a frustrated one."
The sheer volume of goods flowing in multiple directions among manufacturing facilities, warehouses and consumers presents an opportune moment to introduce new, environmentally conscious practices that have the potential to become normative for the field. By identifying areas where business and environmental goals converge, companies can explore new ways to drive efficiencies and reduce impact. Here are a few key ways that your e-commerce store can become more sustainable.
1. Harvest Your Data
These days, supply chains generate a tremendous amount of data. An online store and logistics partner can make use of that data, gaining insight into customer preferences and trends, learning about ineffective processes or packaging, and fine tuning supply chain movement (such as making sure resellable returns don't get overlooked).
2. Think Collaboratively
Technology makes collaboration a more viable option. "Providing e-commerce customers with better choices and allowing them to actively participate in delivery decisions can help to build trust and preference," says Chain Storage Age. It may soon be standard practice to extend to customers a way to "shift their delivery to a time and location that meets their needs, reduces the environmental impact and results in a better experience for everyone."
3. Utilize Space and Flow
Savvy logistics providers can match your product to the best storage option available. More effective storage means smaller footprints—and lower costs. Efficiency extends to layout as well, which translates into the "proper organization and alignment of the processes necessary for the management of an account, including the use of all necessary material handling techniques and equipment based on the attributes of the product," according to FWwarehousing.
4. Measure to Mitigate
Utilities willing to measure the extent of their e-commerce store's carbon footprint are better equipped to reduce and mitigate the remaining emissions. These kinds of efforts make utilities more transparent and position them as leaders in corporate social responsibility initiatives. Efforts to reduce emissions from packaging, and as a bare minimum calling out sustainability challenges, can be a surprisingly persuasive factor in influencing consumer preference.
Make your supply chain more sustainable—and learn everything you need to know about designing and managing high-performing online stores—by downloading our free e-book, The Logistics of Online Stores