To turn more website visitors into customers, it's best to follow industry-recognized best practices for your online store product pages. Mastering these should increase your conversion rates.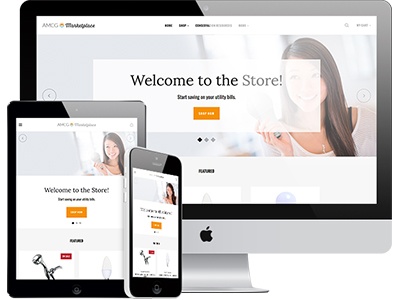 Imagery
Start with a featured image. This image is the main image of the product, be it a smart thermostat or a lightbulb. It should be large, with a white background, and no shadows or glare. Add gallery of images. These include close-ups or different angles of the product that help the customer understand the product's features. This is particularly important for items like smart thermostats or smart plugs, whose components or uses may need some explanation. Use as many images as necessary to illustrate each aspect of the product for customers.
Make sure to include a couple of in-context or lifestyle shots as well—for instance, an LED light in a lamp or a sconce. This helps customers visualize a variety of uses for the product.
Highlight Important Information
Don't make your customers search for the name of your product or its price, features and components. List them as close to the image as possible.
If your utility offers a rebate for the product or free or discounted installation, make sure this information is prominent as well.
Use Eye-Catching Product Descriptions
It may seem difficult to write something interesting about an LED lightbulb. But if you're bored by your product description, imagine what your customers will think. Take a look at how manufacturers or other online stores describe products similar to yours and then aim to improve on that.
For instance, a smart thermostat or plug description could tell a story of a busy family's day and how the product makes their life easier. Or you could highlight how much energy a product would save a household, business or even an entire city or region.
Consider including a video as well, to give customers ideas of how the product can be used in their home or building. One study showed that videos have a 41 percent higher click-through rate in search results compared to plain text. If the video is also posted on YouTube, that's an added bonus because Google owns YouTube and tends to favor it in search results.
Emphasize Reviews and Ratings
In the often-anonymous world of e-commerce, product reviews and ratings can fill the role of recommendations from friends, family and neighbors. These ratings can also include ENERGY STAR® and other certifications, along with awards the product has won from technology publications, websites and other sources.
You can also include referrals like "related products," "customers also viewed …" or "frequently bought together" to link to other product pages in your online store.
Don't Forget FAQs and Policies
Energy-efficiency products can have long, technical specifications, so save these for a FAQ link on the product page. This can also include information like shipping and return policies.
Finally, make sure all your product pages have the same format and a uniform appearance. This will help make your online store look professional and engaging.
For more guidance on how to design your online store, download our e-book, Best Practices for Designing Your Utility's Online Store