Engaging employees of all generations in sustainability initiatives is something of a juggling act. It's smart for companies to realize that while there are many drivers on which boomers, Generation X and millennials are aligned, there are also many places where they diverge. In 2015 millennials became the largest group in the workforce, making it all the more imperative to find the right approach to sustainability programming. In the current work landscape, there are three distinct generations, personalities and work ethics to cater to regarding corporate sustainability. Here's our short primer on generational values.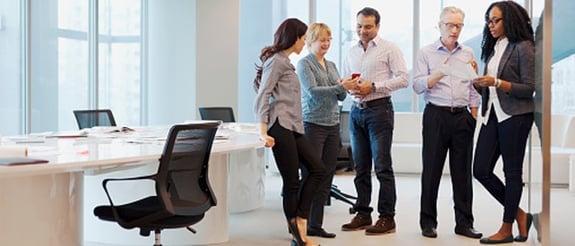 Baby Boomers
Values: Hard work, honest effort, collaboration
Engagement strategy: Invite them to join in sustainability efforts and listen to their ideas. Boomers appreciate the responsibility and collaborative opportunities that corporate responsibility ventures provide. They will become personally invested and dedicate themselves to its success.
Generation X
Values: Autonomy, choice, personal values
Engagement strategy: This generation wants to pitch in—but on their own terms. Provide multiple options and entry points to give your employees plenty of ways to participate. Generation X prizes causes that line up with their own environmental values, so a diverse approach to sustainability works better with them.
Millennials
Values: Social engagement, community, purpose
Engagement strategy: Make your organization's sustainability initiatives competitive and cutting edge, and millennials will be much more willing to be apply their energy to the cause. Millennials enjoy non-hierarchical ways to connect with colleagues on different teams and break out of the box whenever possible, crossing platforms and figuring out innovative tactics for success.
The Search for Meaning Spans Generations
Millennials and boomers seek out jobs that resonate with their passion and invite them to merge their professional, personal, and social goals into a seamless cause. A majority of millennials are influenced by a company's commitment to its local community—and that commitment often determines their decision to work there. Many physically active baby boomers want to use their "semi-retirement" years at nonprofits and other organizations contributing to social good. These generations are searching for something much more purposeful to identify with than just a job. At the same time, an increasing number of Generation Xers are moving from a "survive" mentality to a "thrive" mentality. With some financial security under their belt, many Gen Xers are more open to sacrificing compensation for purpose.
As the pressure to be sustainable heats up, all generations are asserting, with varying degrees of intensity, that making a positive social and environmental impact through business is no longer optional. More and more, it's becoming a non-negotiable aspect of a desirable job description.