Remember when it was cutting-edge to have an online store for your utility? That's so 2017.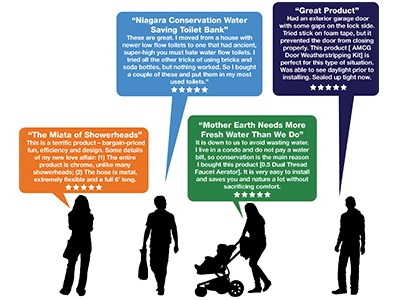 Now that utilities and other energy suppliers are increasingly debuting internet marketplaces that offer energy-efficient products to their customers, it's becoming more important than ever to differentiate yourself from your competitors. And a key way to do that is through product ratings and reviews.
"Reviews can act as a great form of content marketing, helping to deliver quality, fresh content which can assist with better search engine rankings," according to a report from Feefo, a United Kingdom-based consumer ratings and reviews platform.
Word of mouth goes high-tech
A 2017 survey of 1,031 Americans conducted by internet marketing firm BrightLocal found that 93 percent of consumers read online reviews for local businesses-up from 78 percent just five years ago. And 85 percent of consumers trust an internet review as much as a personal recommendation when choosing a business or online store.
The survey found that the average consumer wants to see at least seven reviews before trusting a business or online store. And they need to see an average of 34 reviews before trusting the accuracy of a star rating for that store. Overall, 87 percent of consumers want to see a star rating of at least 3 (out of 5) before they will use a business or online store.
Furthermore, those reviews need to be recent-77 percent of consumers think reviews posted more than three months ago aren't relevant.
"Keeping the volume of recent reviews high and the average star rating glowing is an ongoing process and requires considerable effort to achieve," the survey noted.
Three simple steps to up your review game
So what can you do to encourage positive reviews and ratings for your online store?
Just ask. The BrightLocal survey found that when customers are asked to leave feedback, 68 percent say yes. Furthermore, they're likely to leave a positive review. Sixty-three percent of the people surveyed said they have written a positive review in the past, compared to 35 percent who have left a negative review.
"Not every happy customer will think to leave a review after purchase, so it's up to businesses to make sure they remember to ask. To access this crucial 68 percent who will leave a review when asked, recognize when a customer is happy with your service, and follow up appropriately to direct them towards your preferred review sites," the survey noted.
Pick the right sites. Survey respondents said Yelp and Facebook are their most trusted review sites, followed by Google and the Better Business Bureau (bbb.org).
Respond to reviews. If you get a negative review, offering to fix the problem can go a long way. The survey found that 30 percent of people see review responses as a key factor in judging local businesses.
It's also important to be ready to respond to potential customers after you've beefed up your reviews and product ratings.
"Consumers are now more likely to connect in person (either by visiting the business or getting directly in touch) after reading positive reviews, so it's never been more important to ensure the company name, address and phone number is correct across the board," according to the survey.
Need Help Developing a Customer-Focused Online Store? AM Conservation Group Can Help.