Green building entails more than just using eco-friendly construction materials or improving energy efficiency. Increasingly, it's also encompassing water usage. In fact, it's now possible to build a certified water-wise house or multifamily unit from the ground up.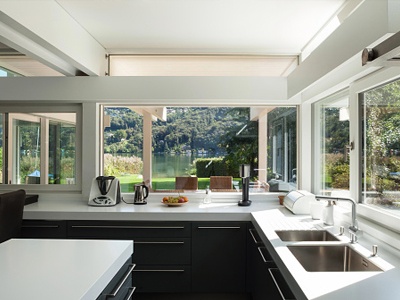 In 2014, the U.S. Environmental Protection Agency established criteria for WaterSense Labeled Homes. These criteria apply not only to single-family homes and townhomes, but also to residential units in buildings that are no taller than three stories. These units can be in mixed-used buildings as well, provided the residential units have their own separate heating, cooling and hot-water systems.
A new WaterSense Labeled Home must be built by a WaterSense builder partner. Contractors, program managers and inspectors can also become WaterSense licensed certification partners (see the EPA's website for more information).
A WaterSense home checklist
The goal of a WaterSense Labeled Home is to use at least 20 percent less water than a conventional home. In order to achieve this, the home must be inspected to meet the following criteria:
No visible leaks
Static service pressure that's tested to be 60 psi or less
Hot water temperature changes of 10 degrees within 0.6 gallons or less, and storage of no more than 5 gallons between the hot water source and any fixture. The EPA has a guide to help you learn which plumbing design option—demand-initiated recirculation, a trunk and branch system, a core system or a whole-house manifold—is best for various types of homes.
WaterSense-labeled toilets, bathroom faucets and showerheads
Kitchen faucets with a maximum flow rate of 2.2 gallons per minute
ENERGY STAR®–certified dishwashers and clothes washers
Evaporative cooling systems that use a maximum of 3.5 gallons of water per ton-hour of cooling
Landscaping that complies with WaterSense's Water Budget Tool
Sprinkler systems that are installed and audited by WaterSense-licensed certification partners, use WaterSense irrigation controllers and are independently metered for multifamily units
Covered pools and spas in single-family homes. In multifamily dwellings, pools and spas should be independently metered, use a gutter or grate system, and have sorptive media (pre-coat) or a cartridge filtration system.
Help from partners
The EPA has a Partner Directory to help you find approved WaterSense home inspectors, product manufacturers, retailers, distributors and trade associations in your area.
Home Depot, which received a 2016 WaterSense Sustained Excellence award from the EPA, has an Eco Options tab on its website that includes a water conservation page. Along with links to WaterSense-certified fixtures, the page also includes links to do-it-yourself home-efficiency audits and savings calculators for water-efficient hot water heaters, washing machines, dishwashers, faucets, showerheads and toilets.
Lowes has a direct link to its WaterSense product offerings.
Use our water efficient products in your water conservation program