Sustainability policies are increasingly becoming must-haves in today's business environment. But developing your own policies can take valuable employee time, and hiring a consultant can be costly.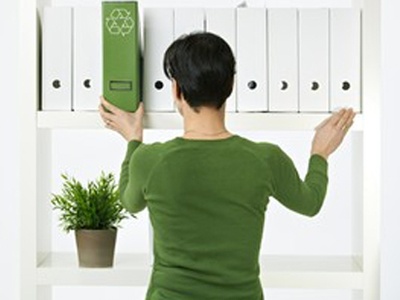 Using a corporate sustainability policy template can help alleviate these issues. While you'll want to customize it to reflect the needs and philosophy of your own business, a standardized template can be a good starting point. Here's an example from InfoComm International of what you can include in your company or municipality's sustainability policy.
Step 1: Develop your sustainability vision statement
Not to be confused with your corporate vision statement, the sustainability vision statement is designed to reflect your business's values as they relate to sustainability. These values could be broad, like combating climate change, or specific, like promoting solar power. Basically, your vision statement should answer why sustainability is important to both your business and your customers.
Step 2: Set some goals
This is the nitty-gritty of how you will achieve your vision statement. Each goal should include ideas from the following categories:
Indicator: This is the type of goal—for instance, communications, human resources, customer satisfaction, energy savings, water efficiency, air quality or community engagement.
Action: If your goal is water efficiency, for example, what actions will you take to achieve that?
Stakeholders: Who will be involved in meeting the goal?
Timeline: How long will it take?
Price: How much will it cost?
Example: Our office plans to reduce its water usage by 20 percent over the next three years. We will achieve this by examining air conditioners, hot water heaters, faucets, toilets and outdoor landscaping, and we will involve both employees and contractors.
Step 3: Define objectives
These are the specific actions your staff and stakeholders will take to achieve each goal. For instance, you might set a timeline for each step toward achieving the goal and assign a person or team responsible for each step.
Examples:
Within six months, staff member X will complete a spreadsheet of company water usage over the last two years, and contractor X will check all water outlets for leaks.
Within six months, contractor X will identify which indoor equipment should be retrofitted or replaced with WaterSense versions, and how much that will cost.
Once approved by management, those retrofits and replacements will occur over the next two years.
Within one year, contractor Y will develop an outdoor xeric landscaping and water reduction plan, with associated costs.
Water-wise landscaping will be completed within two years after the plan is approved by management.
Step 4: Gather statements of commitment
Write up each sustainability goal and objective in a way that makes it easily accessible for employees, customers and partners, and helps procure management support.
Example: As part of Company A's commitment to sustainability throughout its operations, we plan to reduce our office water efficiency by 20 percent over the next three years.
Signed by:
Name of most senior executive ____________
Title ____________
Date ____________
Of course, some aspects of this template may not apply to your utility, company or municipality's unique sustainability goals and challenges. But it's a good starting point for brainstorming your own corporate sustainability policy.
AMCG offers low cost, easy to implement sustainability solutions to companies that are interested in promoting energy and water conservation.