This spring marks the return of an occasion to which many conservation-minded leaders and members of the general populace throughout the country look forward. Few events offer as strong of a chance for your city to participate in water conservation and help save billions of gallons of this valuable resource across the country.
Taking place annually every Earth Month—which runs for the entirety of April—the Mayor's Water Challenge for Water Conservation competition encourages leaders of various cities to be the most water conscious. The competition does this by having mayors ask residents to take a number of easy-to-use, informative pledges online for the goal of conserving water, energy, and many other natural resources.
Conservation through the Wyland Foundation
The National Mayor's Challenge is the brainchild of the Wyland Foundation, a non-profit organization based in Irvine, California. Founded in 1993 by marine life artist Robert Wyland, the organization's mission is to protect, preserve, and promote the world's oceans and waterways as well as the marine life inhabiting them.
Both Robert Wyland and the Wyland Foundation have painted 100 life-sized murals called the "Whaling Walls." Through these efforts, along with education programs, community programs, and public arts projects, the organization spreads awareness of environmental issues not just in the U.S. but throughout the world.
Continued Preservation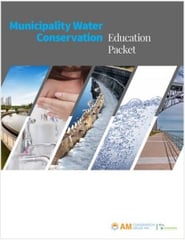 2015 marks the fourth year of the National Mayor's Challenge for Water Conservation. Since its inception, the event has earned wide recognition as a highly engaging and inexpensive tool for reaching out to residents about water and energy conservation. It is designed especially for water utilities and cities in order to encourage conservation.
Most importantly, by participating in the challenge, mayors can help residents dedicated to conservation earn over $50,000 in environmentally friendly prizes. These incentives include water-saving products for the home, gift cards for home improvement, and even a Toyota Prius.
Enroll here to join this year's challenge. To learn more about increasing water conservation awareness with your customers, download AM Conservation Group's Water Conservation Packet.