An energy efficiency school program educates children about the importance of conserving resources in our day to day routines, and empowers them and their families to make simple behavioral changes. Bringing a message to them directly fosters awareness of energy and water efficiency in a fun and innovative message. AM Conservation Group's powerful educational curriculum offers schools and classrooms hands on learning activities, and the ability to customize the programs to meet the specific needs of any student.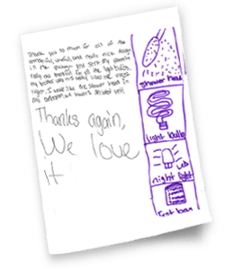 Conservation in Schools
A K-12 educational program promotes positive habit formation during impressionable developmental years that can impact choices made in the future. Each student participating in the program receives an energy efficiency kit that they can take home to their parents. The products included are easy to install, and can lead to immediate energy savings.
Examples of items in a kit include energy saving light bulbs like CFLs or LEDs, an LED nightlight, high-efficiency showerhead, high-efficiency aerator, showerhead/aerator flow meter test bag, and a furnace filter whistle. Combining in-school curricula with kits to be incorporated into the home brings instant implementation, energy savings, and awareness for the entire family.
Generation-wide Energy Messaging
By reaching out to schools and educational facilities, the message of energy savings is presented in a straightforward and easy to learn manner. Our Student Efficiency Education Programs provide all of the materials and support necessary to create a comprehensive curricula. Multiple curricula delivery options are available to best meet the needs of utilities energy efficiency goals.
We understand the value of educating children on the importance of saving energy and protecting their future resources. The benefits of energy efficiency impact us all and are easily implemented with proper instruction and education. Utility companies benefit by exposing students and their families to innovative energy saving products that they might not have been aware of and the importance of reducing energy use.
For full details on our Student Efficiency Education Programs, please contact us today.