Appliance standards are a hot issue in our current energy efficiency landscape. According to the 2018 State Energy Efficiency Scorecard from the American Council for an Energy-Efficient Economy (ACEEE), states have historically led the way in establishing standards for appliances and other equipment.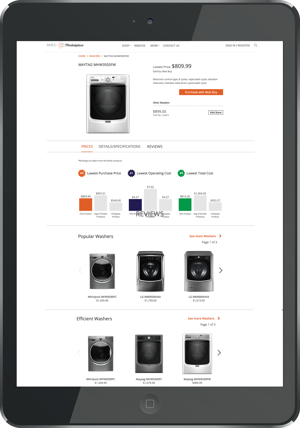 "Over the years there has been an inverse relationship between standards activity at the federal and state levels," the report states. "When federal activity slows down, the impetus for states to set standards increases, and vice versa."
Although appliances may seem like small stakes in the energy efficiency industry, the cumulative energy burden of appliances adds up to a substantial amount. Appliance efficiency standards initiate change at the manufacturer level, requiring appliance makers to meet minimum efficiency levels for all products and forcing the most inefficient products to be removed from the market.
Our existing national standards are a critical part of the energy efficiency picture. The ACEEE report says these standards "save US households about $500 a year on utility bills, or about 16% of average annual utility bill spending in 2015. Businesses saved a total of $23 billion in utility bills in that year, or about 8% of total business spending on electricity and natural gas, to make a combined total (households and businesses) of $80 billion for 2015." As new national standards kick in and the effects of existing ones peak, experts predict the annual savings will increase to nearly $150 billion by 2030.
But progress on federal standards suffered a major setback in 2017 and 2018. Standards already approved under President Obama got placed in a bureaucratic black hole after Trump's inauguration. According to the site Utility Dive, "At the end of the Obama administration, new energy efficiency standards were released for portable air conditioners, air compressors and uninterruptible power supplies. But new federal protocols call for a 45-day waiting period to check for errors, and the period for the new standards spanned the inauguration of President Donald Trump." The most recent standards have never been published—and the onus is on the states to take action on the new standards.
In spring of 2017, 11 states sued the Trump administration's Department of Energy in an effort to get the mired federal energy efficiency standards back on track. Some states, in particular Vermont, went a step further. Vermont raised the ante by adopting the three withheld federal standards into state law. Under the law, even if a federal standard is repealed, it will still be in force in Vermont.
Thus Vermont serves as an instructive case study in appliance energy standards. In 2018, Vermont implemented a new law covering new standards for 16 products—including computers and monitors, faucets, showerheads, commercial dishwashers, and portable air conditioners—and adopted all federal lighting and appliance efficiency standards.
According to the Appliance Standards Awareness Project (ASAP), "Vermont is also the first state to issue efficiency standards for a type of fluorescent tube lighting—an important step in the fight to close a critical loophole in the existing federal standards for fluorescent tubes (with similar action expected in the near future in California and possibly other states)."
The ramifications of going rogue are impressive: By 2025, ASAP predicts that "the standards will save Vermont consumers and businesses 435 million gallons of water and 59 million kilowatt hours (kWh) of electricity annually, enough to supply more than 7,000 VT households each year. The bill also saves significant amounts of oil, propane and natural gas. The total annual energy and water savings for Vermont are projected to be worth $17 million per year. This saved energy means Vermont will also avoid 21,000 metric tons of carbon dioxide emissions annually by 2025." Appliance marketplace extensions to a base online store can help activate these savings, while streamlining the overall customer experience.
Past state standards, such as California's, have the potential to pave the way for national standards for the affected products. Vermont's bold actions may be the necessary tipping point to influence the federal government to set national standards. For example, Vermont provides an inspiring template for similar legislation being considered in other states, including Massachusetts and Rhode Island. As soon as a few other states join in, they have a consortium that puts effective pressure on the appliance industry.
With the increase in momentum, appliance manufacturers may start lobbying for the same standards nationwide—one national standard is much easier in terms of industry-wide distribution and sales. The ripple effect culminates in the de facto adoption of a national standard, which becomes a win-win for both manufacturers and for energy efficiency as energy savings accrue on a much vaster economy of scale.