Energy Efficiency Myths, Busted!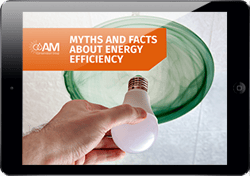 In order to avoid large-scale energy shortages that could cause innumerable problems, including infrastructure collapse, blackouts, and food shortages, among other things, it is important for consumers to put more of their efforts toward increasing their energy efficiency. There are, however, a number of persisting myths relating to energy efficiency that prevent many from doing all they could be. We'd like to address some of those myths, as well as some commonly overlooked facts, for you to share with your customers.
Follow us for more information
Interested in learning more about energy efficiency? Subscribe to our blog to hear from industry experts about new trends and advancements in energy efficiency, water conservation and the utility landscape.