AM Conservation Group was recently presented the "Master of Innovation" supplier award at the 2020 The Home Depot Pro Annual Conference.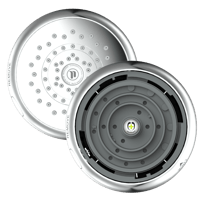 AM Conservation Group won this award for their Niagara Conservation brand HealthGuard® 5-Spray Handheld Chrome Showerhead, which has a patented anti-microbial removable faceplate, allowing for quick and easy cleaning. In addition to its sanitary benefits, this showerhead is highly water-efficient with a flow rate of 1.5 gallons per minute and a patented internal pressure compensator, which enables a consistent output and flow of water regardless of available water pressure. Offered at an affordable price, the hygienic HealthGuard® is especially attractive to institutional entities such as hospitals, hotels, and assisted living facilities or families looking for an easier way to keep their shower experience clean and sanitary.

As a Home Depot Pro partner, AM Conservation Group supplies a wide variety of energy and water conservation products for The Home Depot's base of Pro customers such as contractors, healthcare and hospitality professionals, and multifamily residential managers.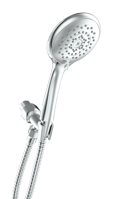 AM Conservation Group's Director of Strategic Accounts, Chris Ehlers, and Director of Pro Sales, Katie Webb, accepted the Master of Innovation Award. "We're so proud of this product and how it provides a safe and sanitary shower experience for those who strive to maintain a sterile environment, all while achieving significant water savings," said Webb.
"Thank you to AM Conservation Group for partnering with The Home Depot to drive sustainable innovation that resonate with our Pros," said Stephanie Angerer, The Home Depot Pro Category Merchant for Faucets, Bath Accessories.
For more information on the HealthGuard® Showerhead, visit AM Conservation Group's website.
ABOUT AM CONSERVATION GROUP
Since 1989, AM Conservation Group has been the utility industry's leading provider of energy- and watersaving products, kits and online stores. We manufacture and distribute nearly 400 energy efficiency and water conservation products, which are custom-engineered for the unique needs of the industry and carry ENERGY STAR® and WaterSense® certifications. AM Conservation Group's product lines include Niagara Conservation® and Simply Conserve®.
ABOUT THE HOME DEPOT
The Home Depot is the world's largest home improvement specialty retailer, with 2,291 retail stores in all 50 states, the District of Columbia, Puerto Rico, U.S. Virgin Islands, Guam, 10 Canadian provinces and Mexico. In fiscal 2018, The Home Depot had sales of $108.2 billion and earnings of $11.1 billion. The Company employs more than 400,000 associates. The Home Depot's stock is traded on the New York Stock Exchange (NYSE: Page 2/3 If you have any questions regarding information in these press releases please contact the company listed in the press release. Our complete disclaimer appears here HD) and is included in the Dow Jones industrial average and Standard & Poor's 500 index. The Home Depot Pro ensures business customers have access to a collection of powerful business benefits, including business tools, spend controls, rewards, fulfillment, the right mix of merchandise and more.