Access to abundant water resources is important for everybody. But high demands on our water supply coupled with challenging climatic conditions - like drought - are putting unprecedented stresses on our water systems. In order to ensure a secure and low-cost supply of water for everyone, each individual needs to conserve.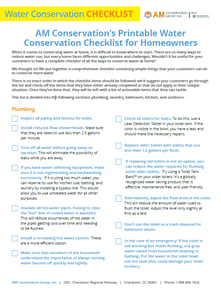 While conserving water has the direct benefit of relieving stresses on water systems, it also reduces energy use and saves money. It costs a lot to maintain the systems that pump, transport, and purify the water that we drink. Not only that, but it takes a lot of energy to heat the water we use for showering, washing dishes, and doing laundry. Limiting water waste will reduce your customer's water and energy bills, which can incentivize them to take steps towards water and energy efficiency.
Conserving water doesn't have to be difficult: if your customers understand their water use habits, they can easily eliminate waste. For starters, they can check their bill to see how much water they use in a day. Household use in the U.S. varies from 66 to 118 gallons per person per day! Once water use has been determined, customers can set goals and make habits to achieve conservation.
Households should focus on the big water wasters first. AM Conservation Group knows that communicating these points to consumers can be a difficult task. For that reason, we compiled a comprehensive checklist to give your customers an actionable list of items that they can take to reduce water consumption in their homes.
The checklist is divided into sections on plumbing, laundry, personal care, food preparation, dish washing, and outdoor water use. Once a customer has downloaded and printed the list, they can go through the list item by item to learn about new tricks to save water – and then check them off as they go!
Using this list of executable items, users will start to see savings almost immediately; after completing every task on the list, households have the potential to see drastic reductions in their water consumption.