Several programs have shown demonstrable, proactive thinking in their approach to maximizing water and energy conservation by seeing the two goals as interdependent. Here are three of the most notable for creating a new standard of best practices.
Advanced meter infrastructure at PG&E
California's energy utilities have long occupied the leading edge of efforts to account for and capture embedded energy savings from water conservation. The most recent innovation is a series of advanced meter infrastructure (AMI) pilots. Employing a mix of designs, these programs represent a collaboration between the investor-owned energy utilities and local water utilities with the shared goal of facilitating energy and water savings through emerging AMI technology.
As part of the programs, many antiquated processes get a much-needed update, including system upgrades for better two-way communication, integration of back office systems and identifying data exchange protocols and data security standards.
PG&E has been the star student in terms of enabling its AMI network to accommodate data collection and validation for multiple water utilities. An earlier PG&E pilot program, which involved 200 water meters, took on some of the major technical challenges involved with data separation, transformation and transmittal.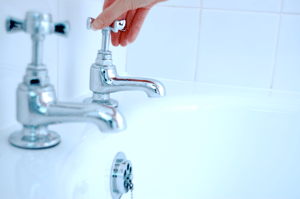 The current ongoing pilot, initiated in 2016 and finishing in 2019, involves teaming up with the Center for Water Energy Efficiency (CWEE) at UC Davis and the East Bay Municipal Utility District (EBMUD). The crux of the program, which utilizes a randomized control group, focuses on whether behavior-based water conservation can achieve substantial energy savings.
Through harvesting detailed water, gas, and electricity consumption data through AMI meters, the goal is to detect potential customer savings, as well as supply-side savings, through water loss reduction and pipeline leak detection.
As part of the pilot, customers can view their water use in an online AMI portal that provides useful information about "hourly water use, leak notification, daily water budget thresholds, climate data, and conservation tips and services," according to the ACEEE report.
Avoided water use at the Energy Trust of Oregon
Energy Trust's irrigation modernization initiative and agricultural production efficiency program were behind the utility's largest reductions in water use. Water saved from these measures, an example of avoided costs, is categorized differently from water saved from direct-install measures such as showerheads and faucet aerators deployed in residential and commercial buildings.
In 2016, Energy Trust of Oregon documented 1.66 billion gallons of water saved from Energy Trust programs. Approximately 1.4 billion gallons of savings were linked to custom irrigation measures that reduced water use by replacing open canals with pressurized pipe. This generates hydroelectricity (needed by farmers to maintain operations), reduces water losses and leaves more water in-stream. The remaining gallons of avoided water use savings were the result of single-family and multifamily measures—typically more efficient shower heads and washing machines.
Avoided energy use at Wisconsin's Focus on Energy
Wisconsin's Focus on Energy program has been particularly active in efforts to account for the avoided cost of energy resulting from water savings. According to the ACEEE, in 2015, "the Public Service Commission (PSC) of Wisconsin authorized Focus on Energy to begin claiming credit for indirect energy savings achieved by installing water-reducing measures." These are defined as the savings achieved by decreasing the amount of water pumped to customers on the front end, or on the back end, treated by wastewater utilities after use.
Both of these measures must be specifically correlated with a decrease in energy use. Because a statute explicitly establishes Focus on Energy as an energy-specific program funded by energy utility customers, the goal was to shape the program as a response to the energy-water nexus without expanding its scope to include water conservation.
Drawing on a wealth of previous years' data, program staff could accurately estimate recommended water-related energy savings. Calculations were based on simple formulas of energy use per gallon of water that applied to both water supply utilities and wastewater treatment facilities.
According to the ACEEE report, "Recommended ratios varied according to water source (surface water or groundwater) and size and type of wastewater system (large activated sludge systems or smaller systems using aeration lagoons or oxidation ditches)."
The growing national interest in the energy-water nexus helped all of these nascent programs develop these standout protocols and practices. When relationships between water and energy staff start to take hold, incorporating embedded energy from water into direct cost savings and avoided cost savings becomes much easier to implement.
Learn more about our water saving products by browsing our selection!