Once you have a smart plug in place in a normal wall outlet, you can control almost any device plugged into it—anytime, anywhere—using a simple app on your smartphone (as seen below).
| | |
| --- | --- |
| | Simply Conserve Smart Home App |
There are all kinds of ways in which smart plugs can transform your home or office—but one of the most appealing things about them is simply that they can make life easier! Let's take a look at a few ways they do that...
Perfect timing
With smart plugs, you can schedule your appliances to turn off and on at the perfect times.
So, on winter nights, you can be sure your lights will be on to welcome you home after a hard day at work, or that a space heater will kick in to make your bedroom toasty warm when you wake in the morning.
In the summer heat, you can schedule your AC and fans to cool your office in advance, or maybe have a dehumidifier turn on to keep your work space comfortable and healthy.
You can set your slow cooker to switch on and off while you're out all day, so that you arrive home to a perfectly cooked dinner.
If you're planning a vacation, you can have your lawn sprinklers keeping things fresh each day while you're away—and even put off potential intruders by pre-setting your lights and TV to turn on and off at times that simulate your normal activity.
And of course, even if you've pre-set schedules for every plug in the place, you can always override control from your phone app at any time if your plans change.
Speak your mind
Tapping the app on your phone is pretty effortless—but if you want things even easier (and more fun?!), why not pair your smart plugs with a voice-assistant like Amazon Alexa or Google Assistant?
That way, you can control your smart-plugged-appliances just by talking to them. Commands like 'Turn on the kitchen light' or 'Turn off the TV' can make life a lot easier if you're walking into a dark room, or your arms are piled high with family snacks.
Fun and games
Smart plugs are perfect for optimizing holiday cheer!
If you plug all your outside holiday lights into one power strip, then connect that to power through a smart plug, you can schedule your lights to turn on automatically for a few hours each evening—and switch off again before the neighbors complain they're keeping the kids awake!
You could take the fun even further by integrating your smart plugs in a smart-home platform, so you can use tools like IFTTT to program multiple-action routines. For example, you could make spooky Halloween lights turn on when visitors trip a motion sensor at the front door, or ghostly noises play through speakers when the doorbell rings.
Mornings made easy
Do you like to wake up to music? Or maybe to the latest news reports? Why not use a smart plug to program a radio to wake you—instead of dealing with that heart-stopping alarm on your phone each morning.
If you're into fresh waffles or pancakes for breakfast, turn on the griddle as soon as you wake up, using your smartphone or voice-assistant 'good morning' automation, so it's good and hot when you're ready to cook. You can do the same for your electric kettle or coffee maker, to have your morning caffeine ready for you all the sooner.
Crises averted
How many times have you been halfway to work, or to the mall, or to the airport … and suddenly panicked that you've left the curling iron on?

With smart plugs, that kind of stress can be a thing of the past. If you accidentally forget to turn off any appliance plugged into a smart outlet, you can simply turn it off remotely, using your phone.
No more overcharging
We all know that things like cell phones and electric toothbrushes do NOT need to charge for 8+ hours at a time—in fact, it's bad for their batteries if they charge for longer than necessary.

But for many of us, it's just part of our routine to put these devices on the charger when we go to bed, to be sure they'll be ready to go the next day.

Smart plugs are the perfect solution. By plugging your charger into a smart outlet, you can schedule it to automatically turn off at a set time—after 2 or 3 hours of charging, for example. This not only saves energy, but over time could also save you hundreds of dollars in new batteries (or phones!).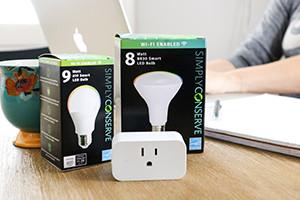 Smart plugs are an easy, affordable first step into home automation—and after you've tried them, you'll wonder how you ever got by without them!