On the horizon for e-commerce is the widespread implementation of artificial intelligence, faster delivery, uber-like efficiency and lower costs. As technology gets more sophisticated, efficiencies will increase along orders of magnitude.
Looking toward the future, here are a few of the upcoming developments we expect to have a big impact on e-commerce.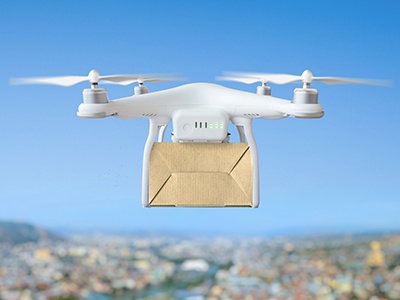 Novel delivery methods
Sure, drone delivery is a fledgling technology now, but conventional package delivery, prepare to be upended. According to a report by research firm Gartner, "As production of both commercial and personal drones continues to rise, global revenue is expected to increase 34 percent to more than $6 billion in 2017 … Almost three million drones will be produced in 2017 - 39 percent more than in 2016." Sooner or later, logistics companies will be competing with drones, or adding them to their fleet.
Exponentially more efficient freight brokerage
Imagine an Uber system that transports goods instead of people. The bugaboo of the freight industry is the lost capital of trucks traveling at less than capacity. The challenge? Better ways to take advantage of the loading/offloading opportunities that present en route.
The logistics company Coyote is on the cutting edge of that streamlining shift. According to Tech Crunch, Coyote has proprietary software that eliminates fleet inefficiencies and helps give them substantial gains in ground transport. "Fuller payloads, better-timed pickups and drop-offs and faster overall delivery should lead to better margins for a costly undertaking," according to Tech Crunch.
Automated supply chains
In the here and now, the most visible shift in e-commerce is the increased penetration of artificial intelligence (AI) into shipping and fulfillment. According to Multichannel Merchant, chatbots are the poster child for how AI is becoming an indispensable aspect of e-commerce. They not only help with monitoring purchase patterns, they can also help track shipments.
Multichannel Merchant published an article titled 5 E-commerce Logistics Predictions for 2017," which states that, "Depending on the query, they might even be able to provide unstructured yet quantifiable data for retargeting campaigns or other marketing purposes."
At the front end, chatbots have proven their effectiveness for delivering optimized customer experiences. Astute logistics companies will soon put chatbots to use, facilitating behind-the-scenes operations at warehouses as well.
Gear up for the future of e-commerce-and learn everything you need to know about providing the online store experience your customers expect-by downloading our free e-book, The Logistics of Online Stores