Can sweepstakes help increase email addresses gained, brand awareness, and engagement? Our Innovation Lab team asked this important question when exploring engagement opportunities. Sweepstakes have proven to be a modern trend across various industries, and we wanted to see if they'd work for our e-commerce programs. As a result, our team designed an innovation project to determine whether energy efficiency audiences were also responsive to this trend, while gaining practical insights to apply to program marketing plans for our e-commerce clients. This blog, part one in a two-part series, will discuss the fundamentals of running a sweepstakes campaign.
The Fundamentals
Identifying a Goal
Before beginning a sweepstakes campaign, there must be a goal. The goal can vary and incorporate various elements (e.g., increase the number of email addresses, increase likes, improve engagement). Once a goal is determined, the sweepstakes campaign can be designed to support it.
In the case of our specific innovation project, our primary goal was to gain opt-in email addresses. Our secondary goals were brand awareness and engagement.
Selecting Forms of Entry
The way your audience enters the sweepstakes should align with your primary goal. What do you want the audiences to do in order to be entered for a chance to win? For example, our primary goal was to increase the number of opt-in email addresses, so participants were required to give their email address to become a Simply Conserve rewards member and enter the sweepstakes. Since our secondary goals were brand awareness and engagement, we also provided multiple forms of entry through our social media channels (e.g., entry via follow on Twitter, Pinterest or Facebook). Participants only needed to enter via one of the channels.
Deciding on a Prize
The prize being offered in your sweepstakes is the main incentive for participants to enter. It's the reason they're doing everything asked of them! The best way to consider a prize is to ask yourself the following two questions:
"Would I want to win this?"

If the answer is no, you may want to consider another prize.

"Am I willing to do all of the following to win it?"

If the answer is no, you are probably being too demanding in your forms of entry.
For our innovation project, we decided to offer a bundle of our best-selling products which included LED night lights, LEDs, garden hose nozzle, kitchen faucet aerator, rainfall showerhead, moisture meter and smart sockets. This prize package was selected to match our secondary goals of brand awareness and engagement, as well as offer a substantial incentive that would attract as many entrants as possible.
If your brand offers products, it is always best practice to make your products the grand prize. Alternatives can be store credits or gift cards for your e-commerce store.
Creating a Name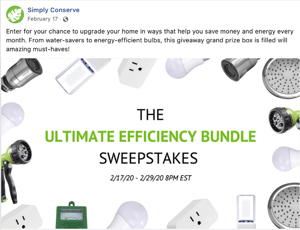 This is the fun part! You've developed the groundwork for your sweepstakes, and now you need to give it a name. It's a best practice to make the name straightforward yet exciting.
For our innovation project, the sweepstakes was named 'Simply Conserve's Ultimate Efficiency Bundle Sweepstakes.' This name held the brand name of our test lab e-commerce site (Simply Conserve), an exciting adjective (Ultimate), the prize offer (Efficiency Bundle) and what it was (Sweepstakes).
Ground Rules and Terms
No offense to our legal team, but this was the most tedious part. It's recommended that you discuss the rules and terms of your giveaway with your corporate counsel or outside legal resources, since each state has different laws regarding giveaways and sweepstakes that you must comply with. This can take quite a bit of time to get right, so make sure you leave enough time to do it properly.
For our innovation project, our in-house corporate counsel team devised terms and conditions and set the ground rules for the Simply Conserve Ultimate Efficiency Bundle Sweepstakes. While there were many terms and conditions, the important highlights for the states where we were holding the sweepstakes were:
It was a 14-day event where participants were required to be U.S. residents age 18 or older. We offered 6 ways to enter and would select 2 lucky winners.
Design and Marketing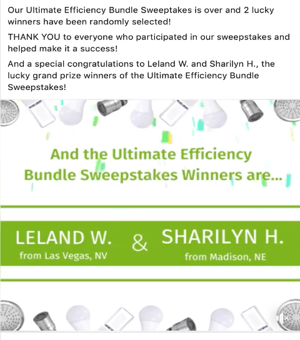 Visuals for your sweepstakes should be vibrant, yet clear with assets focusing on the prize and your brand. A visual theme should be created for your sweepstakes, and then it should be consistently applied across your marketing channels. Forms of marketing may vary. In ours, we developed a consistent look and feel for the materials, then promoted the sweepstakes digitally by utilizing an email series, a press release, and organic and paid social media. Traditional or foundational marketing tactics, such as postcards, flyers, and communal events are also appropriate options. Our marketing budget for this campaign was very modest, coming in at less than $500.
Stay tuned for part two of this series where we'll discuss sweepstakes benefits!