Utilities looking to revolutionize their approach to customer service can find a roadmap from a very unlikely source: Domino's Pizza.
Domino's is a case study in evolving to meet changing customer expectations. In late 2008, the company was in peril. Years of bad product, bad service and bad customer engagement had plummeted the pizza chain's stock price to less than $3 a share.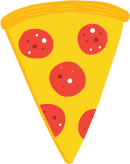 When a new CEO took over, he made the astonishing admission that the company's pizza was mediocre at best. And then he launched a product overhaul, including new ingredients and recipes. Domino's also revamped its menu, adding more types of food to appeal to more consumers.
Many companies would have decided that was enough. Their execs would have patted themselves on the back for their hard work and waited for customers to notice.
But Domino's went further. To improve customer engagement, it decided to transform the company's entire digital presence. The goal was a cultural shift in which everyone from the board of directors to the delivery drivers viewed Domino's as "an e-commerce company that happens to sell pizza."
A decade later, people are still talking about Domino's groundbreaking digital data collection and transparency strategy—and the world-class e-commerce experience it has created. Today, a share of Domino's stock is worth almost $300—or 100 times more than it was before the company transformed itself.
Domino's reinvention is a lesson in admitting faults and investing in customer engagement. And it's a lesson utilities can learn from and apply.
The outside-the-box thinking Domino's used to address its problems
Transparency.

Domino's first transparency innovation was a video titled "Domino's Pizza Turnaround." It began with screenshots of social media posts in which customers used words like "cardboard" to describe what they thought of the company's pizzas. Then, Domino's employees talked about how much that criticism hurt—and how it spurred them to create better crusts, sauces and ingredients.
It was such an unprecedented level of transparency that it created a national buzz. Customers began to think about Domino's in a new way.
The company followed up with digital transparency initiatives. With the help of its advertising agency, it created Think Oven, a Facebook platform where customers submit ideas for everything from making the company more eco-friendly to designing new employee uniforms. Domino's also launched Domino's Live, an unfiltered, real-time Twitter feed on the homepage of its website.
Digital ordering.

Domino's began its technology initiatives by implementing digital ordering. This seems like a no-brainer now, but a decade ago, it was revolutionary.
Domino's Chief Marketing Officer Russell Weiner told Fast Company in 2014 that digital ordering has many advantages. "It's got better repeat, higher spending, customer satisfaction is higher, they order new products at a two-to-one ratio, and then there's all the data to learn from."
Data collection.

Domino's digital innovations make it a leader in data collection. And that helps the company make marketing decisions that are rooted in actual customer behavior, rather than simply speculating what a customer may want.
Much of the info comes from Domino's state-of-the-art app, which features a 3-D pizza builder, a proprietary Pizza Tracker that lets customers follow the progress of their pizza minute-by-minute, customized coupons and deals, a customer loyalty program, and the ability to create an individualized Pizza Profile. Customers can then use that profile on Domino's Zero Click ordering app. Simply open the app and it transmits your favorite order in 10 seconds—no clicks required.
Reaching the customer.

Domino's data analysis showed that customers want to be able to order pizza anytime, anywhere. So, it developed Domino's AnyWare, which includes a website that gives instructions on how to order Domino's products via text, Google Home, Alexa, Slack, Facebook Messenger, Tweet, smart TV, smart car and smart watch.
AnyWare uses GPS tracking to deliver to places without a fixed address, like a park or (no joke) the Australian outback. The company has even tested delivering pizzas by drone, robot and (again, not kidding) reindeer.
Lessons for utility companies
Like the old Domino's, utility companies don't always have the best image when it comes to customer engagement. Following Domino's lesson of admitting faults and then telling customers the plan to fix them can go a long way toward creating lasting consumer goodwill.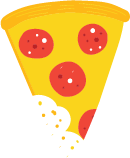 And while some of the technology Domino's has developed is overkill for utilities, we can learn from the company's focus on catering to the customer in the ways they want, rather than the ways we want. This means a focus on digital outreach through—at the very least—an app or well-designed mobile-first website, text messaging capabilities, and smart home products like Google Home, Alexa, and smart appliances, lighting and devices like smart plugs.
Domino's also teaches us that customers expect on-demand updates from all their service providers—not just pizza delivery guys. Utilities should make sure their websites, apps, and customer service lines are able to give status updates on things like outages, e-commerce orders and service appointments.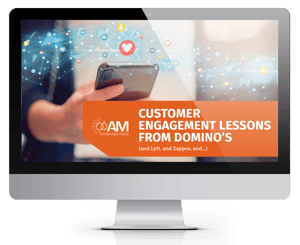 Want to learn more about how to improve your utility's relationships with its customers? Check out more tips and tricks learned from Domino's and other major companies by downloading our free ebook: Customer Engagement Lessons from Domino's (and Lyft, and Zappos, and more).