For a homeowner, getting solar panels installed is a huge decision. It's a significant financial commitment with a payback time of several years, and the process of navigating federal and state tax credits can be confusing. Not to mention, once a homeowner signs the contract to commit to solar, they still have to wait several months for their actual panel installation. This window provides lots of time for buyer's remorse or second-guessing such a large investment, which can give way to cancellations. And as solar continues gaining popularity, there is more and more competition within the market. So, how can a solar installer stand out from the competition, win customers' trust, and decrease cancellations?
1. Provide Relevant Knowledge
Being knowledgeable is the first step to earning customers' trust. Not only is choosing solar a huge decision, but it comes with a significant field of unknowns. From payback time to tax credits to utility rebates, customers can only feel confident in their decision if they are armed with all the necessary facts. Being ready to answer every question they may throw at you—and even the questions they don't know they should ask—will go a long way in being seen as a valuable resource.
2. Avoid High-Pressure Sales Tactics
Making the decision to go solar is already a huge undertaking; customers don't need to be bombarded with ultimatums or "one-time only" deals. Instead, they need someone who will patiently listen to their concerns, respond appropriately, and treat them with honesty and respect. At the end of the day, solar isn't just about making a deal. It's about advocating for clean energy and promoting opportunities for others to do the same.
3. Give an Energy-Saving Gift at the Right Time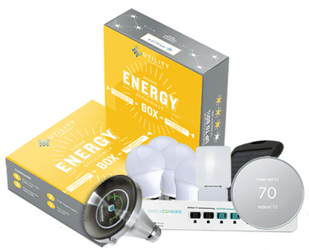 Whether it's a box filled with LED light bulbs and a new water-saving showerhead to help get your foot in the door with a new customer, or a box with a free Google Nest smart thermostat and several smart products upon installation completion, giving customers or potential customers an energy-saving gift at the right time is a great way to engage with them and stand out from the competition.
The bonus for you? These gift boxes can actually cut down on customer acquisition costs (compare a smart thermostat to a $1,000 referral cash incentive, for example) and increase customer pull-through. They're also a great way to stay top-of-mind with the customer during that period before the installation is complete, since the box (and many of its products) is fully designed in your solar branding as well.
Want to learn more about giving an energy-saving gift at the right time? We're offering you a free box—including a Google Nest smart thermostat! And feel free to email our Vice President of Strategic Markets, Mark Stroub, directly with any questions.