Smart homes still face the problems of subpar intelligence hampering functionality. But as intelligence systems mature, including more sophisticated algorithms, activity recognition methods and prediction accuracy, smart homes will transform and become more desirable. The gold standard: a multi-agent, interoperable system with distributed intelligence by integrated smart appliances across platforms. In simpler terms, it means all appliances and applications working together seamlessly, despite running on different platforms. To get there, here are five trends that herald the smart home 2.0.
Customization

Every home is unique. A different footprint, region and orientation, combined with very specific needs and priorities, creates countless permutations. Adaptable products will encourage people to invest in and extend their individual systems, catering specifically to their unique home's needs.

Consolidation

E

verybody dreams of eradicating their multitude of elaborate remote controls and consolidating to just one central universal remote. It's the holy grail of the smart home. As the focus on platform lock-in recedes, and greater cross-compatibility standards spread, a one-remote reality becomes more viable.

Home data sharing

The next phase of smart home technology may involve more sharing and caring—as in data sharing with businesses. Think having your fridge restock your milk automatically. Smart device data will be highly prized among the companies directly connected to the supply chain.

Uptick in customer service

Forward-thinking smart home device companies will use customer service as a way to stand out. There are several ways an Internet of Things (IoT) environment can present a number of frustrations for consumers, from basic troubleshooting to security breaches. Companies that go the extra mile to deliver exceptional customer service will be rewarded by grateful consumers. 

Increased voice recognition

Voice control of technologies such as phone, TV, home audio and even car dashboard will be commonplace by the end of 2019. Voice activated tech will become ubiquitous, taking over the Internet of Things. Household objects from refrigerators to alarms, washers to mirrors will be imbued with voice capabilities. You'll probably be able to have a conversation with most of your household objects – a good incentive, perhaps, for decluttering.

Summary

As counterintuitive as it may seem in our hard-driving capitalist-oriented culture, a collaborative approach among smart home device manufacturers will actually advance the smart home market best. If tech providers also join in the collaborative spirit to educate consumers and offer guidance on smart technologies, a huge momentum will begin to coalesce among the broader population. Entry into the smart home market is already being enhanced by forward-thinking home performance and low-income programs that have started to integrate smart home products, such as thermostats—the smart home gateway drug—into their protocols.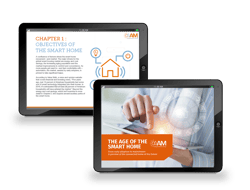 As you begin your journey towards the smart home of the future, you'll undoubtedly have questions about where and how to get started. But don't despair. We've got you covered in an all-you-need-to-know guide to the connected home of the future: The Age of the Smart Home.