Almost two-thirds of the 51 largest cities in the United States boosted their energy efficiency last year. But there's still plenty of room for improvement, according to ACEEE's 2017 City Energy Efficiency Scorecard.
The City Scorecard, which has been published each of the last three years, rates cities across five energy-efficiency policy areas: local government operations, including public financing and land use and zoning laws; community-wide initiatives such as economic and workforce development; buildings codes and policies; energy and water utility operations; and transportation policies and investment.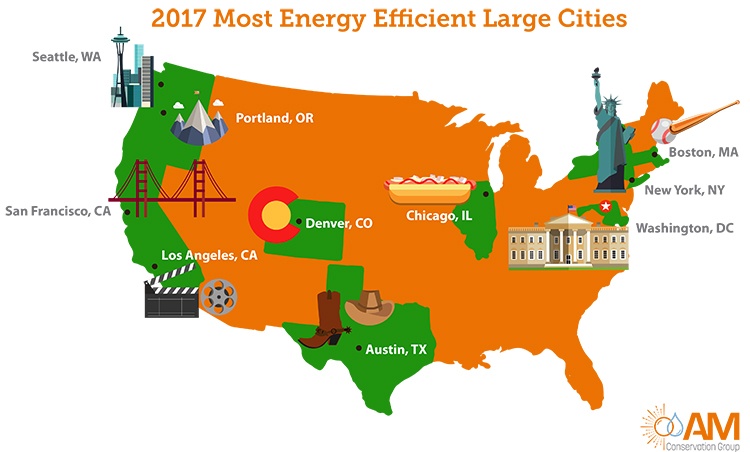 Boston Leads The Way
For the third year in a row, Boston was the nation's most energy-efficient large city. Boston earned 84.5 out of a possible 100 points—an increase of 2.5 points from 2015.
"The city continues to implement its building energy benchmarking requirements, enforce the Massachusetts Stretch Energy Code, and partner with its energy utilities through Renew Boston. The utilities serving the city have made substantial investments in electricity and natural gas efficiency programs and offer comprehensive low-income and multifamily programs," the City Scorecard states.
New York City came in second, followed by Seattle and a fourth-place tie between Los Angeles and Portland, Oregon. LA made its first appearance in the City Scorecard Top 10, fueled by a 25-point improvement between 2015 and 2016.
Rounding out the top 10 were Austin, Chicago, Washington D.C., and a ninth-place tie between Denver and San Francisco.
Overall, 32 cities increased their scores from 2015, led by Los Angeles, San Diego, Kansas City and Phoenix.
Ranking Cities By Specific Improvements
The most popular energy-efficiency initiatives were related to building codes and policies. Top-performing cities included Boston, Austin, Los Angeles and New York. City Scorecard lauded them for stringent building-energy codes, devoting resources to building code compliance, establishing requirements and incentives for efficient buildings, and increasing the availability of information on energy use in buildings.
Denver, New York, Philadelphia, Portland and Washington D.C., were leaders in more efficient local government operations, including procurement and asset management.
Austin, Minneapolis, Portland and Washington D.C., earned top scores for their community-wide energy initiatives, including strategies to mitigate heat islands and plans for future efficient distributed-energy systems.
Boston and Providence, Rhode Island, led the way in energy-efficient utilities, particularly for underserved markets like low-income and multifamily households. For water utilities, the top cities were Austin, Boston, Columbus, Ohio, Denver, Los Angeles, New York and San Diego. All of these cities offer programs that allow customers to save water and energy simultaneously.
Transportation scored the lowest of the five initiatives, but the City Scorecard did cite Portland and New York for transportation efficiency initiatives and investments for mass transit, vehicles and freight.
Where Do Cities Go From Here?
Considering that Boston was the only city that scored over 80 points, the Scorecard notes that all cities have significant room for improvement. It cited five recommendations for the future:
Adopt energy-saving targets for both the private and public sectors.
Integrate energy efficiency into day-to-day local government activities, especially for public buildings and vehicle fleets.
Improve energy efficiency in new buildings by adopting stricter codes and adequately funding compliance activities. Boost efficiency in existing buildings through incentives, energy audits and energy-performance requirements.
Partner with utilities to increase access to energy and water efficiency programs, especially for underserved populations.
Decrease transportation-related energy use through location-efficient zoning that allows residents to get to major destinations via energy-efficient transportation and increase car and bike sharing programs.
"Local and metropolitan energy-efficiency initiatives give visible benefits to residents, directly improving the communities where they live and work," the Scorecard concludes.

AMCG can help you reach your energy efficiency goals. Contact one of our account executives today.