If you're looking to connect with the hotel and hospitality industry, you first need to understand what challenges they're currently facing.
It certainly makes sense to think about hotels and hospitality when you're seeking to expand your customer base. After all, lodging is one of the fastest growing industries, and it has seen nearly 10 years of consecutive growth.
In 2017, hotel bookings grew to $185 billion, thanks to a strong economy and digital innovation like online booking, reports Deloitte's 2019 US Travel and Hospitality Outlook.
There are roughly 5 million hotel rooms in the United States today, which offers suppliers a huge opportunity. Unfortunately, there are challenges that are threatening to stem this robust revenue growth.
Here are the top 5 challenges your potential customer is facing each day that you should keep top-of-mind as you interact with them:
1. There's a predicted economic downturn looming that could impact both business and leisure travel, leaving the lodging industry with empty rooms to fill and decreased revenue. Fewer guests might lead to budget cuts and staff reductions.
How you can help: Offer competitive prices and consider price matching. You don't want your customer to switch to the competition over a single product.
2. The cost of keeping up with the latest technology can be challenging for some businesses. Guests have come to expect a hotel room that offers fast and free Wi-Fi, USB ports, and flat-screen TVs. Guests will soon expect to use their mobile phones to check in, check out, order room service and even unlock their room door.
How you can help: Provide products with the latest technology at competitive prices, emphasizing their innovation and usability.
3. The rise of Airbnb, which lets travelers authentically experience a destination like a local.
How you can help: Offer products that feel like they belong in the hotel you are trying to work with. Are they a luxury property or do they have a more rustic, homey look and feel? Present your customers with products that will complement and fit their decor. For example, don't offer a value showerhead to a luxury resort targeting high-end clientele. This will not only appeal to their particular decorating taste but will also demonstrate that you have taken the time to understand their specific needs.
4. Difficulty finding and retaining good staff. The industry's annual turnover rate is 74 percent, according to the Bureau of Labor Statistics. This costs a hotel an average of $5,864 per employee, reports the Cornell University's School of Hospitality Management.
How you can help: Make ordering quick and easy for new staff, eliminating as much training time as possible.
5. Ever-increasing operating costs such as utilities, real estate, labor and marketing have continued their upward trends.
How you can help: Offer energy-efficient, water-conserving products to save money wherever possible.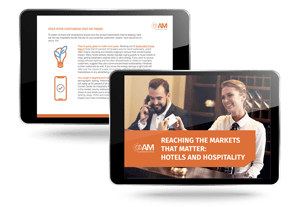 Ready to learn more about helping hotel and hospitality clients overcome their challenges? To help you learn more about how to connect with this market, we've created a comprehensive guide for you. Download Reaching the Markets that Matter: Hotels and Hospitality now and get the leg up on getting hospitality buyers to look to you first for their supplies.