Our first AM Conservation Group products and services-focused Innovation Sprint was based on feedback we heard from utilities in our Innovation Workshop a few weeks prior. We were coming off the April 2020 Innovation Sprint, where we built Franklin Energy's phase III virtual audit prototype. The team was excited to evolve the kit component of that solution into something more robust, while building something that could also stand on its own to replace existing kit ordering form and landing page combinations that are common in direct-to-customer kit programs and education programs. Our goal was to develop a prototype that was better looking and more functional than what we had, but still able to be built in weeks, instead of months like a full-scale e-commerce site.
I used the last bits of my creativity to facilitate this sprint (it's been a long few weeks!), so I decided to interview our "Decider" from this sprint, senior director of sales Gena Rodriguez-West, for this blog instead of sharing my typical sprint-recap stream of consciousness. The Decider is the one who makes final decisions for the team and breaks up any ties or arguments. Gena and I kept our conversation casual, sharing a spicy skinny margarita and a Friday afternoon chat. Pull up a virtual chair and listen in…
Danielle: Welcome, Gena! Thank you for helping me out with this blog. I'm feeling a little braindead after the sprint.
Gena: Of course! Happy to help. Is the tequila helping?
D: It is, thank you. I'm using your recipe! When you were first invited to participate in the Sprint, what did you know about the process?
G: Well, you sent me a very long email detailing the process in mid-April…
D: Long emails are my specialty!
G: Indeed. I knew a little background about how they worked, based on hearing about the one you did in Boulder around Christmastime, but at that point it was really just a basic understanding. I heard more about that one from people here in Charleston who were on the team like Daniel, and I'd read your blog about that experience, so I was able to understand a bit better. Then I read the book—and realized I would be the Danny Ocean to your Rusty Ryan—and it gave me a much better understanding of the process.
D: I was so glad you were texting me Ocean's 11 references—that's how I knew you were actually reading the book and I'd chosen my team leader well!
G: I'm still wondering who the troublemaker is…
D: It's obviously Jim. Or Tom? Possibly both you and I. And also Megan, definitely Megan. That one's sassy. Just kidding…we're all troublemakers in our own way. It was a good group to toss into a virtual room and see what happened. So, what was your favorite part of the Sprint process, and why?
G: My favorite part was reviewing the sketches, applying digital dots to vote and seeing how others voted. It was so interesting to look at the ideas across departments and across companies and see how preferred solutions and suggestions varied, but also understand that we were all pretty much marching in the same direction. We all had a slightly different take on program drivers, but we were all right in different ways. The challenge then became designing a solution that took everyone's feedback into account, and would logistically work, yet was still pushing the boundaries.
D: Yes! It's fascinating how different groups come together in the sketching exercise. As a facilitator, it's always interesting to see those sketches come in – they're always different, and there's always a range of styles and drawing abilities, but they're generally aligned when it comes to the big picture. It's pretty neat that we ultimately went with a solution that was a combination of perspectives from Cary, a Franklin Energy program manager, and a couple AM Conservation Group program marketing team members. That's why I like to assemble a diverse team – you never know how those worlds will collide and make magic. So, what was your least favorite part of the process, and why?
G: I really can't say I have a least favorite part of the process, but I will say it was a real added challenge that we couldn't all be together in person and focus solely on the Sprint for eight hours a day, all week. I did feel very rushed at times and obviously with the challenges we are all facing outside the Sprint, there was a ton of other work for everyone to do afterwards. That was stressful. I can see a real need to disconnect while doing this, but also have the team together to bond and trust the process (and each other) a bit more. That can't happen with the world we are in right now, of course, but it certainly was an added challenge that we did eventually overcome.
D: Are you referring to "the fight" when we were working on the storyboard?
G: Perhaps! It was hard to put aside some of the operational barriers to come to a more innovative solution. As decider, I felt a real burden to try and be fair to everyone, while driving innovation and respecting the process. We had very creative people on the team and others that were trying to be more practical, and it sparked heated debate. It became hard to read the room when we were virtual and frustrations flared, even though we had cameras on.
D: First of all, those are normal! We had those in person, too. It's the side effect of passionate people and not enough time. Exhaustion and crazy workloads didn't help matters, though. I was personally surprised about how much marketing and sales butted heads on this one—I expected to butt heads with operations, but not you guys. We all work together so often (and so well!), that was surprising. With the benefit of distance (and a nap or two), I can see where y'all were coming from and think we ultimately did a good job of compromising. You did a great job of reigning things in and getting us back on track. So, what surprised you about the process?
G: I read the book, but I didn't really realize we were going to build as literal of a prototype as we did in one week. It was a real website with all the products and calculations to back it up! Choosing actual products for a series of semi-custom energy efficiency kits, plus a health and safety kit, pulling the savings info from TRMs, pricing out all the kit components and technology, writing survey questions, figuring out how it was all going to work in terms of IT and warehouse operations, etc. all in one day was truly a sprint! But knowing your drive…why the heck was I surprised?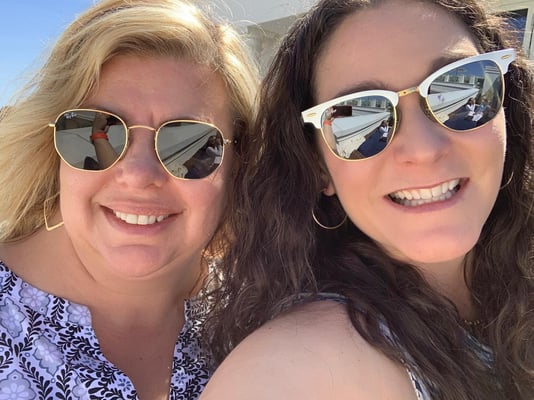 Danielle and Gena spending time together back in the good old days when in-person chats and cocktails were still OK.

D: Ha, ha. Thank you. I get myself in over my head sometimes with big ideas. When my son was little, I put sparklers on his birthday cake (for drama!) and he freaked out and cried and covered his little eyes and said some wise words: "Mommy, sometimes you need to learn to go small." If you'd allowed myself, Megan and Alyssa to steamroll you into our vision for the prototype, you may have been saying something similar. At 3am. I'm proud that we built something innovative, yet still "doable," and did so without Jamie or Cherise pulling an all-nighter. That's a first for these Sprints, so you should be proud! Did anything surprise you about the user testing?
G: Yes! That was the second most interesting part of this process for me. Truly a fly-on-the-wall experience that helped me understand what a customer thinks when landing on a site like this. I knew from experience there was inherent skepticism about free products, but I was surprised to see just how much skepticism there was. I also really liked the real-time tweaks we made to the prototype between user tests to address concerns, then to see the huge difference those simple changes made to the overall experience.
D: Agreed. User testing is fascinating, and you learn so much, so quickly. Luke always does such a great job under pressure to guide those interviews. I'm always happy our diverse sprint teams get to hear that feedback firsthand—it really does improve our overall product development to be so customer-focused. Next, give me the high points: what are three ways this solution is better than what we can currently offer our clients?
G: I have more than three, actually. First, it offers a more dynamic design than a standard form on a webpage, which I believe will really help reduce customer skepticism and increase overall conversion rates. Second, the quiz allows us to elevate the user experience—which helps position our clients as more customer-focused and innovative, too—and it allows us to offer semi-custom kits, which is something we've been asked to do FOREVER. Third, having a non-branded e-commerce site embedded to offer optional add-on products helps us overcome objections around things like specialty bulbs or smart products when the client doesn't have an online store of their own. Fourth, the combination email and survey for validation is a great value-add that will reduce overall program costs and help us get away from BRCs, while still providing validation information needed for EM&V. And finally, all of this can happen VERY quickly.
D: You're making my project to develop talking points for the rest of the sales team very easy, thank you! So, last question, what's your single most important takeaway from the Sprint?
G: We need to collaborate in cross-functional teams and innovate regularly to get ahead of market needs. This Sprint has changed the way I think. I believe we should be making more collaborative decisions and make this a way of life for us as a company. We have been successful doing what we've been doing for 30 plus years, but doing what we've always done isn't going to propel us to the next-level solutions we need to meet our clients' evolving needs. This process gets us away from creating things on an "as-needed basis" and forces us to think more strategically.
D: Exactly. Thank you so much, Gena! I appreciate your time today and also in your role as Decider in this Sprint. It was a pleasure as always to work with and learn from you.
---
Ready to learn more about our new kit ordering portal? Schedule a meeting to learn more and get a private demo of our prototype, which has now moved into production and will be available soon.