Retail giants like Amazon and Zappos built their success largely on completely reimagining the customer experience. And like it or not, the new vision they created has trickled down to the utility industry. Today's customers have now grown accustomed to the high-levels of service these retailers provide, and they've come to expect the same from everyone they do business with—including their utilities.
Utilities would be wise to pay attention to the lessons provided by these super-successful companies—like Zappos.
How Zappos overcame customer anxieties to disrupt an industry
There are certain things that even the most tech-tuned consumers are wary of ordering online. Near the top of the list is shoes.
Buying footwear without being able to try it on is a turn-off. What if the left shoe fits but the right one doesn't? What if the heel chafes? What if what appears to be a cute little ballerina flat in the photo actually looks like an orthopedic slipper on your foot?
Online shoe and clothing retailer Zappos realized that the key to alleviating those anxieties was to offer free returns on all its products. It was a pioneering concept in the early 2000s, and critics thought that eating the postage would gobble up Zappos' bottom line. But it turned out the opposite was true. Grateful customers returned again and again to the e-commerce site—so much so that 75 percent of the company's purchases now come from repeat customers.
But it's not just the free returns that are attracting customers. Zappos prides itself on its personalized customer service, which is based around its call center. While other e-commerce companies might see the future as digital, Zappos believes good old-fashioned human conversation is the key to personalization and customer engagement.
This is a message that should resonate with utilities. In the quest to digitalize our customer engagement, it's also important not to neglect our customer-facing call centers.
The outside-the-box thinking Zappos uses to grow its business
Seeing customers as people first.
Zappos collects plenty of data through its e-commerce site. But Alex Genov, the company's head of customer research, believes that analyzing data via algorithms, artificial intelligence, chatbots or other trendy technology doesn't necessarily deliver a true customer personalization experience.
For instance, data personalization systems may suggest products similar to what a customer has bought before. But what if the customer doesn't want more of the same? The key, Genov says, is to understand why a customer bought a product in the first place, and then suggest other products that complement that reason.
Personalized chats.
Of course, a company can't understand why customers are buying its products unless it asks. That's why Zappos prioritizes personalized customer interactions.
Forbes reports that on one day in 2017, Zappos fielded 7,394 customer calls, 1,656 online chats, and 988 emails. Each phone call was answered in an average of 25 seconds and each chat response averaged 31 seconds. Email responses took an average of four hours and 15 minutes, although Zappos' goal is to reply within an hour.
It's no surprise that phone calls were by far the favored customer interaction. Zappos encourages people to call by putting its phone number at the top of its homepage. And yet, the company estimates that less than 5 percent of its sales are made by phone. Instead, the goal of phone chats is to truly personalize customer engagement and encourage customers to think of the company as their friend. Then the next time they're online shopping for apparel, they'll choose the company they personally like.
No rules for customer-service agents.
Zappos prides itself on its fun and weird company culture, which encourages innovation—especially in customer engagement. It also embraces a holacracy system of management, in which decision-making is done through self-organized teams rather than a centralized, silo-oriented organizational chart.
This system gives call-center employees the leeway to spend as much time on the phone as they need to make a customer happy. The reps don't use scripts and are encouraged to send flowers, cookies, postcards, or "wow gifts" of their choosing to customers. They also get four weeks of training before they ever take a call, and can quit at any point during that time and receive $2,000. The goal is to have employees who truly want to interact with and make a connection with Zappos customers.
Lessons for utility companies
Zappos' call-center success story is good news for utilities that are loath to leap too deeply into digitalized customer engagement. But it's also a warning that customers of today and the future are being trained to expect more when they interact with a company.
Zappos has set the standard for call-center training and empowerment. By investing more in their customer-service reps, or choosing a partner like AM Conservation Group with a long history of satisfied call center customers, utilities can truly personalize their services and products—and become the go-to choice for energy-saving tips and products. The key is giving the call center representatives the tools to access all available information a customer may need to answer their question effectively, while providing the training and tools they need to be successful.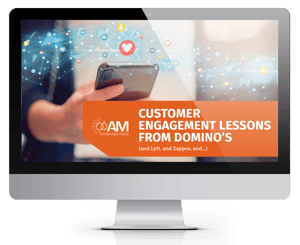 Learn more about what your utility do to keep up with evolving customer expectations by downloading our free ebook: Customer Engagement Lessons from Domino's (and Lyft, and Zappos, and ...).