We've all been there before. We've found ourselves browsing the internet and come across a great-looking online store we simply couldn't resist. We clicked around, browsed products, read descriptions and reviews, confidently added items to our cart and checked out. We smiled in satisfaction upon receiving an instant confirmation that our new purchase was being prepped for shipment right to our door. Throughout this whole process, we never stopped to take note of the intuitive and intelligent design that made our shopping experience so easy and delightful.

That's exactly what excellent online marketplace design should be: unnoticeable. In the world of online user experience and e-commerce marketing, the more streamlined and simple the marketplace design, the more "frictionless" the buying process. Shoppers are less likely to get "snagged" by clunky site organization and layout, leading to frustration and abandoned carts.
The last thing any marketplace designer wants is for shoppers to find themselves frustrated when looking for the information they need to make their buying decisions. Shoppers also don't expect to squint at their screens while trying to quickly navigate to the products that interest them. After all, they're living in the age of Amazon: easy, intuitive and fast.
So, how is a utility supposed to keep up with high consumer expectations and ever-evolving technology? Consider the following the simple tips and tricks on designing an effective utility online store layout in the infographic below: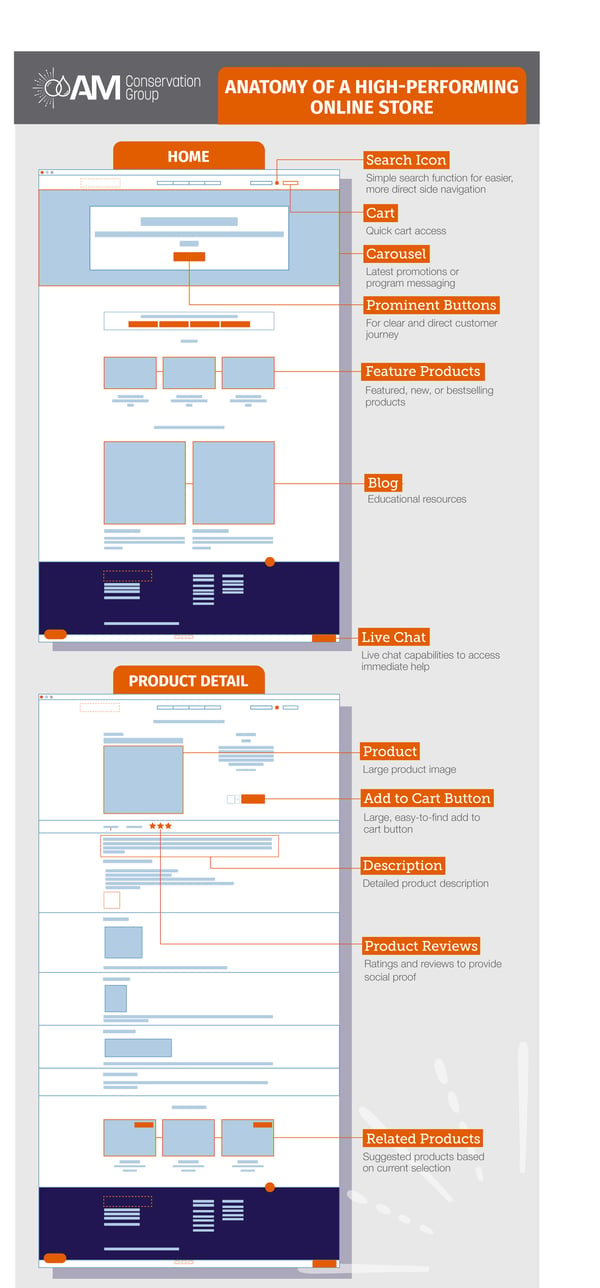 Unfortunately, building and managing online stores and marketplaces takes a lot of time and effort—from working with web developers and e-commerce experts, to developing custom segmentation and validation tools, to integrating systems and programs, to employing a marketing team who can make sure your customers want to buy from you.
Then, there's the labor-intensive inventory, packing, shipping, and tracking side of the endeavor. It's no wonder so many utilities, municipalities, and co-ops either don't have online stores or have online stores that aren't performing as well as they should.
Fortunately, AM Conservation Group can help. We provide utilities all the benefits of a seamless online store with none of the heavy lifting. And since our solutions can easily scale into a marketplace with robust customer engagement capabilities, there's no risk of outgrowing our solution.
To discover how

AM Conservation Group can

innovate

your online store, schedule a demo today.